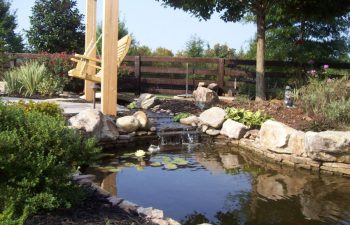 Whether you enjoy entertaining or simply relaxing after a long day of work, imagine a backyard living space that is creative, contemporary and cozy, while offering the therapeutic benefits of being outdoors. Perhaps you've envisioned a poolside lounge area lined with plants, foliage and shrubbery, or an outdoor fireplace, custom landscape lighting or water fountain. With endless possibilities, Mobile Joe's Landscaping offers a full menu of landscape design services to bring your dreamy backyard oasis to life.
From small spaces to open, barren backyards and non-descript landscapes, Mobile Joe's is Atlanta's premier landscaping design company, with more than 20 years of experience. Following an initial discussion, our landscape architect constructs a professional scale drawing of a client's new landscape. For those in need of a little inspiration, we provide an array of custom services to add beauty and function to a property. These include arbors, fences, hardscapes, irrigation systems, patios, ponds, privacy trees, retaining walls and water features.
Landscape Design Services And Features For Your Space
Offering privacy and shade, an arbor is a unique structure and focal point that blends beautifully with any landscape design. With the addition of an arbor swing, clients can enjoy a panoramic view of their space through its open framework. For added privacy, contractors at Mobile Joe's can install a gate, stone pillars, a pergola, stacked stone retaining wall and/or trees along the edge of a space. Our fencing materials include wood, farm style with or without mesh and powder coated metal.
As a highlight to any home or backyard, outdoor lighting fixtures accentuate other landscape features (flower beds, patio, trees, water fountains and koi ponds) with added curb appeal and security. Mobile Joe's is proud to utilize Unique Brand Landscape Lights for all of its outdoor lighting plans, as this company offers a lifetime warranty on landscape light fixtures.
At Mobile Joe's Landscaping, we take pride in providing exceptional landscape design services that bring years of relaxation and enjoyment to our clients. If you are looking for a trusted landscaping company to transform your backyard space into a dreamy oasis, call today for a free initial consultation.