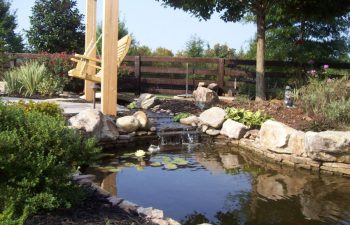 Koi ponds are among the most beautiful and engaging water features for a residential backyard. In fact, watching and caring for these large colorful fish can quickly become a hobby for many homeowners. However, Koi ponds are undoubtedly an investment and the decision to add one to your backyard should not be taken lightly. Here are several things you'll need to consider to determine if a Koi pond is right for you.
Koi Ponds Need Stable Soil
Koi ponds can hold up to 200 gallons of water. Considering that just one gallon of water weighs over eight pounds, it is understandable why you'll need to make sure you have proper soil stability to support your Koi pond.
Koi Ponds Require Ample Sunlight
Most Koi ponds do better in a site that gets a good amount of sunlight.
Koi Ponds Should Be Deep
There are several benefits to having a deep Koi pond. First, your fish will only grow to the size of the pond so they may not reach their full 3 feet potential if your pond is too shallow. Plus, they may get sick often since they'd be swimming in water that has more concentration of their own waste. Overall, a deeper pond (approximately five feet or more) is healthier and will also better protect the fish from outside predators.
Koi Ponds Must be Oxygenated
Fish can only survive in an oxygenated pond. Many homeowners choose to add a waterfall or fountain to ensure the water circulates properly. Algae can also be a beneficial source for oxygenating the water.
Koi Pond Maintenance is Critical
Don't make the mistake of assuming your Koi pond is maintenance-free. While larger Koi ponds are easier to care for than smaller ponds, they all require daily maintenance tasks to keep them healthy. This includes daily feeding for the fish, cleaning/changing pump filters and monitoring the level of algae in the pond.
If you need help determining whether a Koi pond is right for your backyard, call the experts of Mobile Joe's Landscaping. We proudly build Koi ponds for residential clients. Our team understands what these beautiful ponds demand in terms of installation as well as long-term maintenance. Keep in mind that Koi fish can live up to 35 years so it is important to feel confident in your decision to install a Koi pond.