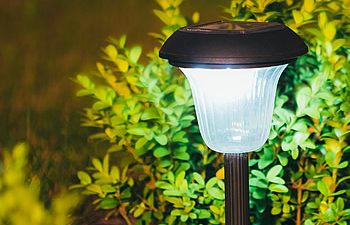 With access to modern lighting, your outdoor space doesn't have to shut down when the sun goes down. The strategic placement of quality outdoor lighting can offer numerous value to your property, including those that impact the aesthetic value of your home as well as your family's safety.
#1 Highlights Your Home and Landscape Features
Outdoor lighting is an excellent way to showcase your home when there is not enough sunlight to do so. It can also provide a spotlight on the landscaping features or hardscape elements that you are most proud of, such as your stacked stone retaining wall, Koi pond, outdoor fire pit, patio or flower garden. This offer visual appeal to your property and maximizes your landscaping investments.
#2 Provides Security and Safety
A well-lit home during the nighttime hours is a strong deterrent for unwanted visitors and thieves. However, outdoor lighting can also be a means to keep your invited guests safe. With proper lighting, your family and friends have a much less chance of falling or injuring themselves on your property. Outdoor lighting lowers your personal liability risk, especially if you like to entertain at night.
#3 Extends Your Outdoor Living
Far too many homeowners have a beautiful backyard that doesn't get used when the sun goes down. Don't miss out on these valued hours due to a lack of lighting. With a simple outdoor lighting installation, your family can continue to use your outdoor space and even entertain others without the hassle or cleanup of having guests inside your home.
Ready to learn more about our options in outdoor lighting? Mobile Joe's Landscaping proudly offers Unique Brand Landscape Lights, a superior line of outdoor lighting that provides a lifetime warranty on all light fixtures. Illuminate your home and landscape today and feel good about the return on your investment!