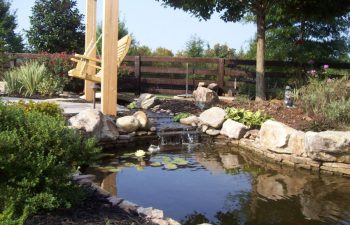 A stormwater pond or retention basin can give your property valued security and protection from the effects of a hard rainfall. This strategically constructed pool is designed to collect water from rain and slowly release it at a managed rate that does not cause erosion or flooding. While retention ponds are an excellent solution for flood prevention, they have a critical demand for regular maintenance if you want them to work. In fact, if you own a retention pond, you know that you must pass regular inspections from county or city authorities.
What Happens During Retention Pond Maintenance?
What does your pond need to have or show to pass an inspection? If you are up to date on your wet pond maintenance duties, you shouldn't have to worry. Retention pond maintenance from a Mobile Joe's Landscaping expert can include the following tasks:
Mowing the Embankment
You need grass and plants around your retention pond to filter stormwater pollutants. However, this vegetation shouldn't be overgrown, as this can attract pests as well as catch debris and woody growth that will compromise the flow of water.
Erosion Control
Most retention ponds have a sloped hill that causes the water to flow in one specific area. Over time, this can cause erosion and lead to sediment filtering into your pond. Your maintenance service may include backfilling the slope or bank with soil and providing a covering to prevent future erosion.
Sediment Removal
It is almost inevitable for your retention pond to collect sediment over time, especially on the stone that is there to prevent erosion. To avoid grass and weeds growing in your pond, it is important to clean the sediment off the stone and reset it.
Schedule Your Retention Pond Maintenance
How often should you have your pond professionally serviced? The easiest way to avoid a retention pond inspection failure is to schedule routine maintenance four times a year. It is important to know that retention pond maintenance is best left up to the professionals since mowing the sloped embankment with heavy equipment can be dangerous. Furthermore, a special certification is required to inspect for cracks and repair damage. Toxic gas build-up can also exist in this area and appropriate tools are needed to measure oxygen levels and evaluate safety.
Call Mobile Joe's Landscaping today to schedule your retention pond maintenance near Cumming.