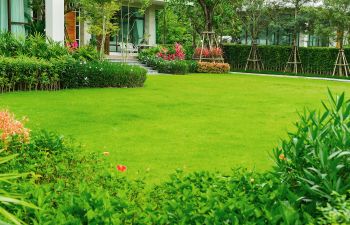 Cooler temperatures aren't a reason to let down your guard against weeds. If you live in Georgia, weeds are a never-ending battle. They are looking for every opportunity to take over your lawn, including the winter months. When not controlled, weeds become "robbers." These pesky plants steal water and nutrients from nearby grass, flowers and plants. If they are large weeds, they'll also steal sunlight from your valued blooms. Some weeds even secrete a chemical into the soil that impedes growth of other plants. We must stay on defense against weeds year-round. For early winter, this means applying a pre-emergent weed control.
Do weeds really exist in winter? Absolutely. In fact, here are Georgia's most common winter weeds to watch out for:
Dandelion. Not just a spring season weed. These bright yellow flowers are hard to miss but dangerous for your winter grass too. Their well-known white puffs hold seeds that blow quickly and easily in the wind to create a quick spread of weeds if they are not tackled early.
Annual Bluegrass. The most common grassy weed in the world. It grows quite fast and tall – up to 15 inches long! Its leaves are a vibrant green, and the blades of grass have short blunt tips. Each plant can produce roughly 100 seeds in as short as eight weeks.
Henbit. A broadleaf winter weed that has green or purplish square systems. They are marked by hairy stems and egg-shaped leaves with prominent veins on the underside. Henbit can grow up to 16 inches high.
Speedwell. Not an eyesore weed, but don't be deceived. These blue petals with dark blue stripes are destructive. They grow low to the ground, then turn upright to flower with oval leaves growing opposite of each other.
Chickweed. An "edible" member of the carnation family. Sadly, not a flower we want in our lawns. They tend to grow in clumps with their slender hairy stems and small white petals. Like most weed, it doesn't take long before they will quickly overtake your turf.
Control Winter Weeds Now
Ready to stop winter weeds? Mobile Joe's Landscaping is always equipped for your year-round battle with weeds. Call today to schedule your pre-emergent weed control service to ensure your turf stays healthy and protected.