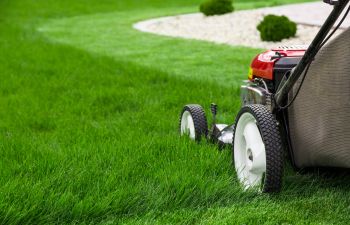 Hiring a landscape contractor isn't just for people who hate mowing their grass. Whether you hire them once per season or for year-round services, professional landscapers offer a wide range of benefits – including those that may surprise you!
#1 Save Energy
According to the American Public Power Association, a well-designed yard with shade trees in strategic locations can bring your total air-conditioning bill down by as much as 50%! The key is "strategic locations." An expert landscape contractor will know what and where to plant trees in your yard so that you can maximize shade, provide more oxygen in your environment and help to regulate your home's temperature.
#2 Safer Property
Landscaping isn't just about the vegetation. A landscaper will also be keenly aware of hazards on your property. This may include knowing if a sick tree is at risk of falling or recognizing the need for a retaining wall, outdoor lighting or other hardscape to improve a treacherous terrain.
#3 Reduce Noise
While you won't get the sound-proof environment that you have inside your home, there are ways that a professional landscaper can cut noise pollution when you step outside. Thick privacy trees, water features, wildlife and other sounds of nature make a great buffer for street noise or loud neighbors.
#4 Early Attention to Plant Health
Most homeowners don't notice health problems in their yard until it is too late. Once visible signs are apparent, it is often a late-stage issue. A landscaping expert, however, is trained to detect problems at their earliest and most subtle stages. This can often save you time and money in correcting the problem. Whether it is drainage problem or poor soil, a landscaper can address the issue before it compromises your entire lawn.
#5 Boost Real Estate Value
It's no surprise that an attractive, well-manicured lawn adds curb appeal to your home. In fact, hiring expert landscapers can increase your property's resale value in the event you ever want to sell your home. Investing just 5% of your home's value into landscaping has the potential to boost its market value by as much as 15%!
At Mobile Joe's Landscaping, we are ready, equipped and willing to handle your landscaping services in Georgia. Not only do we have superior knowledge and skill, but we also use professional-grade equipment to ensure your landscape is getting the best care possible. Call today to learn more about how you can benefit from our professional landscaping services.