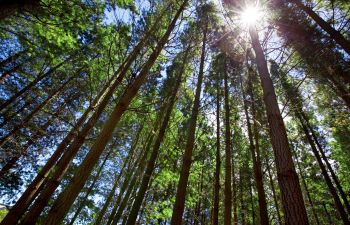 While it may be rude to look your friends up and down, it is exactly what your trees need from you. To ensure the trees on your landscape are in good health, it is important to periodically give them a good hard stare from the top of their canopies to the base of their trunks. A change in the appearance of one of your trees is a good indication that the tree is sick or dying. One of the more common concerns with large trees is trunk rot.
The trunk of your tree is what unites the network of roots below to the leafy canopy above. If the trunk gets damaged or diseased, it needs to be addressed. Sick trees that are ignored could lead to the death of the entire tree and possible threats to your home and family's safety if the tree falls.
Avoid Cutting and Sealing
In many cases, you may only notice a portion or side of the trunk that has a rotting wound. Resist the urge to simply "cut off" and "seal off" the rotted area of the trunk. Unfortunately, trees can't heal their own damaged tissues. Instead, they just seal it off and continue to grow. Therefore, cutting rotten wood can further injure the tree and make it more susceptible to infection. While there is a product called tree paint or wound dressing that attempts to "seal off" the removed rot, this does not fully close the wound and can't prevent the spread of infection or disease.
The Issue Goes Deeper
Trees rot exists because there is an issue within the deeper tissues the tree. Wood decay is a disease that targets and infects the tree trunk from the inside out. This makes wood decay very difficult to treat. In fact, a landscaping expert or Certified Arborist may suggest one of the following three options when you have trunk tree rot:
Let Your Tree Be. In cases of small decayed or rotted areas, your tree may survive just fine by naturally sealing off the rotting wound and continuing to grow.
Give Some Extra TLC. By initiating watering, fertilizing and pruning, you may be able to help extend the useful life of your tree. Just be sure not to cause additional injury to the tree during pruning.
Remove Tree for Safety. If it is determined that the trunk rot has substantially weakened the tree, it may be better to avoid the risk of the tree falling and hurting someone.
Contact a Professional in Tree Care!
See something on your tree that concerns you? It can be difficult for the average homeowner to determine whether your tree is simply changing due to the seasons or if it is showing signs of disease and damage. If you would like expert tree advice and/or an inspection of the plants and trees on your property, call Mobile Joe's Landscaping today!