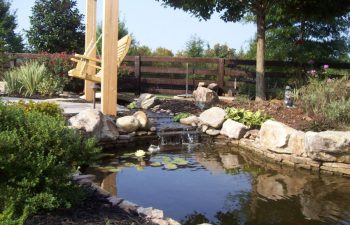 Want to add sound, texture and movement to your existing landscape? Consider adding a water feature. Whether it is a cascading waterfall, ornate fountain or simple pond, there are water features of all types and sizes to fit your budget and style. Water features are an easy way to bring appeal to your landscape while also inviting wildlife, the soothing sounds of nature and other valuable elements to your outdoor space.
Not sure if a water feature is worth the investment? Consider the following benefits that homeowners report when installing a water feature in their front or backyard.
#1 Creates Soothing Sounds
A water feature is the perfect way to bring the sounds of nature to your doorstep. Create a relaxing oasis in your own backyard with this simple landscape addition.
#2 Supports Your Local Ecosystem
If you appreciate nature and want to enhance your local ecosystem, you'll love the fascinating habitat that your water feature creates for the natural wildlife around you. 
#3 Can Require Little Space and Maintenance
Don't have much space on your property? No problem. There are several water feature options that don't require a lot of space. In fact, there are many pondless water elements that don't need much maintenance either. This is perfect if you want water on your property without the hassle and cost of a swimming pool or pond.
If you are looking for a one-of-a-kind landscaping element that brings visual appeal and natural relaxation to your property, consider installing a water feature with Mobile Joe's Landscaping. We would love to give you a quote today!