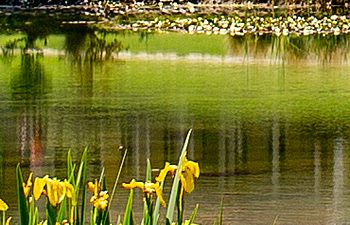 Whether you manage a neighborhood, a business or other commercial property, it is your job to also manage the water that falls on the land. One of the most effective and efficient ways to do this is with a retention pond. Retention ponds are man-made lakes that help control storm water runoff, erosion and flooding on your property. They are often surrounded by natural landscape or vegetation and are designed to permanently hold water. Retention ponds, however, require maintenance and upkeep.
Each city and county have a set of codes and regulations for retention ponds. If these are not met, the property manager is held accountable. What you may not know, however, is that there are landscaping experts that can help you maintain your retention pond and pass the next inspection. Mobile Joe's Landscaping is proud to provide retention pond maintenance to Atlanta and the surrounding areas.
Retention pond maintenance can involve a number of elements depending on the size and type of the property. Too much debris and not running at full capacity can cause a retention pond to be out of code. In general, the following three maintenance tasks are considered to keep a retention pond in ideal condition:
#1 Add Plants as a Buffer Around the Pond
Grass, plants and other vegetation around your retention pond can offer several benefits, such as erosion control and protection from pollutants as well as aesthetic improvement. Ideally, ponds should also have an aquatic bench (a shallow shelf using wetland plants around the edge of the pond), which is recommended by the U.S. EPA.
#2 Maintain Landscape Around Pond to Boost Function
Not only should you plant grasses and plants around your pond, but you'll also need to keep them manicured, nourished and healthy. Keep in mind that grasses that are too high around your pond can block pond accessibility, but grass that is cut too short can collect unwanted pollutants from stormwater runoff. A properly maintained landscape can help you pass retention pond inspections.
#3 Aerate Your Turf
Aerating your landscaping turf serves to encourage lawn growth by aiding in water and fertilizer absorption. Aeration also prevents soil compaction, which can be a detriment to your retention pond and cause an overflow situation.
Is Your Retention Pond Up to Code?
For quality retention pond maintenance near Atlanta, call Mobile Joe's Landscaping. We have a keen understanding of what the city and county require in terms of your retention pond. We have helped countless HOA's, homeowners, developers and business owners maintain a healthy, effective and fully functional retention pond.
To make sure your retention pond meets all of the city and county's codes and requirements, consider hiring a commercial landscaping company to enhance and maintain the area.