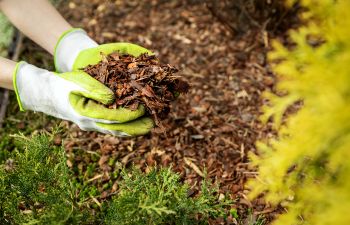 Your grass, plants and trees are certainly the primary components of your landscape. However, it can be your choice in groundcover that can really polish and define your landscape appearance and protect its health. At Mobile Joe's Landscaping, we love taking care of your lawn care needs, which includes helping you choose, calculate and install your groundcover.
Unless you prefer bare dirt or weeds, it is important to choose an appropriate groundcover for your yard. For most homeowners, this comes down to either mulch or pine straw. Here are some top reasons we recommend mulch, which can be delivered in the following forms:
Rubber
Bark nuggets
Shredded bark
Wood chips
Organic
Top Reasons to Choose Mulch
Although mulch is more expensive than pine straw, it offers the following top benefits to help you maximize your investment:
Mulch is better at preserving moisture.
Mulch is an excellent weed barrier.
Mulch helps keep soil off the leaves of plants and trees.
Mulch can reduce the risk for plant disease.
Mulch has a longer lifespan.
Mulch comes in several varieties and colors
Mulch is more aesthetically-pleasing
Do you need more advice on which ground cover to use in your own yard? Let us help. Our professional landscapers can recommend the best type of mulch as well as help you calculate how much you'll need. Call Mobile Joe's Landscaping today.