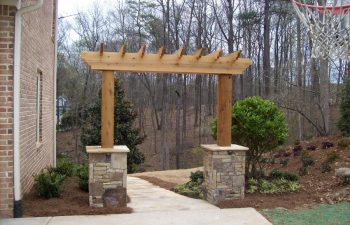 One of the easiest and most affordable ways to give your landscape a finished look is a custom arbor. While many people associate arbors with growing vines and gardens, these open and freestanding structures can be used in many different ways. At Mobile Joe's Landscaping, we offer free on-site consultations for new arbors. Here is a closer look at how a custom arbor could benefit your personal backyard.
A custom arbor can come in many different sizes, shapes and materials. In general, an arbor is larger than a trellis but smaller than a pergola. Depending on your specific needs and preferences, a custom arbor can achieve the following:
Highlight a specific area of your landscape
Become a focal point
Offer shade or shelter
Provide privacy for gates, paths or benches
Support vining flowers, fruits and vegetables to climb
Many homeowners want their arbor to be a type of "living arch" that naturally blends in with its surroundings. This will take time as the plants grow and adapt to the structure. Others choose an arbor as a means to separate their garden into different areas or "outdoor rooms". You can even use multiple arbors together to create a tunnel effect. If you have children, you may elect to create an arbor swing as both an aesthetic touch and functional component.
Whether you want an arbor to grow living plants or prefer it to be its own landscape feature, we can help you with our expertise in custom arbors at Mobile Joe's Landscaping. Call our team today to learn more about your design options for backyard arbors.