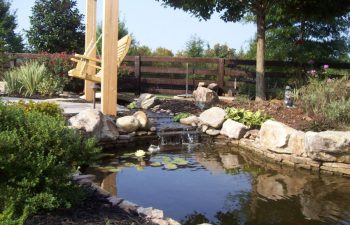 Are you considering adding a koi pond to your backyard? Koi ponds can offer a unique oasis and beautiful feature to your outdoor space. While Koi fish look like overgrown goldfish, their habitat needs are very different. In fact, Koi pond installation and maintenance can be quite complex. Understanding the process and what it takes to create a healthy home for your Koi fish can help you appreciate why hiring a professional is best.
Koi pond installation is not as simple as digging a big hole in your backyard, filling it with water and dumping your fish inside. There are many factors to consider and careful techniques to follow if you want to protect your Koi fish investment (which isn't cheap).
First, the location of your koi pond is critical. Not only do you need enough depth to handle three feet of digging without hitting an underground infrastructure, but your soil must also be sustainable enough to support the weight of the pond. Ideally, your koi pond should be in a partially shaded area and get approximately four hours of sunlight each day.
The pond will be lined with a special thick rubber liner. It needs a pump to properly filter koi fish waste and other unwanted particles from the water. Speaking of water, it needs to be have optimal pH, nitrate and ammonia levels to support healthy fish. There is also a specific manner in which you'll want to introduce your new koi fish to the pond to reduce trauma. Depending on the extremity of the temperatures outside, you may have to adjust your feeding patterns during the winter or even install a water heater to prevent freezing.
After your koi pond installation process, you'll be faced with the biggest responsibility of all – maintaining your koi pond. This involve feeding your fish as well as regular monitoring of filtration, pH and aeration of the pond.
Do you still want a koi pond but not sure you are up for the job of installing it by yourself? Call Mobile Joe's Landscaping. We proudly offer Koi Pond Design and Installation to the residents of the greater Atlanta area.