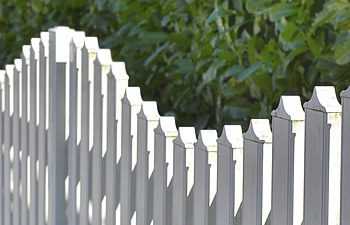 Having a fence on your property can provide a wide range of benefits. Some homeowners need a fence to contain a pet or keep unwanted visitors away, while others like the aesthetic appeal of a bordered property line. Regardless of the reason you are getting a backyard fence, there are several things you'll need to consider before starting the project.
Mark Your Property Line. This is an important initial step. A surveyor can often identify your exact property line and stake it so that the fence doesn't end up in your neighbor's territory.
Get HOA Clearance. Many neighborhoods have specific guidelines about the type, color and/or size of fences that are allowed. Before you make your final selections or hire an installer, you'll need to get your HOA's approval.
Talk with Your Neighbors. While this is not required, it's always a nice gesture to inform your neighbors about your upcoming fence project. In some cases, you can save money by simply attaching a back fence to your neighbor's existing fence on either side to complete your backyard enclosure.
Decide on Fence Material. Once you've gotten the go-ahead from your HOA and neighbors, it is time to choose your fencing material. Fences come in a wide range of colors and materials, such as wooden, chain link, powder coated metal, stone and more.
To determine the best choice in fence material, it is important to establish your specific goals for your backyard fence. In doing so, ask yourself the following:
Are you getting a fence primarily for safety?
Do you have kids and pets that need a hazard-free material?
Does the fence need to offer maximum privacy and/or security?
How much maintenance are you willing to give to the fence?
Does the appearance of the fence matter to you?
Your answers to the above questions will guide you in your fence material selection. At Mobile Joe's Landscaping, we also have an experienced team who can help you choose the right material, size and placement of your backyard fence. Call today to get your fence installation quote near Alpharetta.