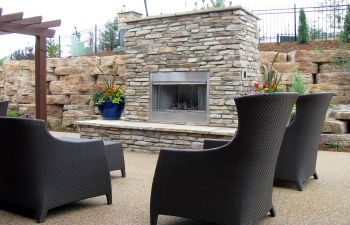 If you've invested in an outdoor fireplace or fire pit, we know it will get plenty of use this winter. While your fire pit can certainly transform the appearance of your backyard, there's more to an outdoor living space than just the fire element. To ensure you complete the project and achieve a balance of aesthetics and functionality, we suggest the following additions along with your outdoor fire pit:
Landscaping – Don't dismiss the value of beautiful landscaping to surround your outdoor fire. A landscaping expert can recommend planting options that can survive well in the cooler months and around your fire.
Outdoor Lighting— Your fire can only light up a small area of your backyard. To ensure property remains safe during the dark hours that you will use your fire pit, we suggest outdoor lighting. The right outdoor lighting can illuminate your walking paths, deter trespassers and even highlight the structural design of your fireplace or fire pit.
Seating Space – Create permanent seating space or increase your current seating by adding a retaining or seating wall. No one wants to drag out your camping chairs for guests every time you want to use your fire pit. There are a variety of materials that can be used for a seating wall, including sandstone, limestone, brick and stone block.
Patio and Walkway Pavers – You shouldn't have to ruin your lawn when you want to use your fire pit often. To accommodate the heavy foot traffic and foster a cleaner and more usable space around your fire pit, you can add patio pavers and walking paths. Concrete pavers and natural stone are two of the most popular options for patios and walking paths.
What elements do you need to add to enhance the space around your outdoor fire pit? Mobile Joe's Landscaping is happy to help. We offer a full menu of landscaping and hardscaping services, including outdoor fire pits, patios, lighting, retaining walls and more.