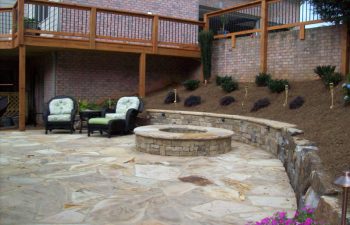 An outdoor patio can be an excellent addition to your backyard space. Patios add visual appeal to your landscape as well as valued functionality with more usable space for entertaining guests. Just like other hardscapes, your patio can be customized in shape, size and appearance to fit your personal needs and style. One of the most important decisions you'll make about your patio, however, is which material is used for paving. The two most common patio materials are concrete pavers and flagstone.
Flagstone refers to a combination of flat natural stones that are used to pave a patio. While flagstone has a higher upfront cost compared to concrete pavers, you'll get some major returns on this type of patio investment.
Natural Beauty
Customers who choose flagstone often value the natural look and feel that this material offers. Flagstone offers a variety of designs and colors directly from nature. You may choose natural stones such as limestone, slate, bluestone and more to allow your patio to serve as a beautiful extension of your existing landscape.
Longevity
When it comes to longevity and durability, flagstone is undoubtedly superior. In fact, this patio material can last forever. Concrete pavers, however, can chip and crack as the ground naturally shifts underneath the patio.
Minimal Maintenance
If you want a patio that holds its beauty and functionality with simple maintenance, flagstone is again the winning choice. The natural stones themselves do not require any special care, and the mortar in between the stone will only require minimal maintenance and repair over the years.
When it comes to flagstone patios, you may feel like you are sacrificing your wallet initially, but the long-term return on your investment is far superior compared to other paving options. To learn more about the beauty, longevity and low upkeep of flagstone, please call our patio installation experts at Mobile Joe's Landscaping.