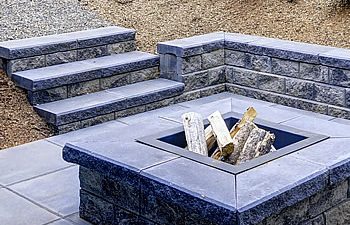 Are the cold temperatures limiting your backyard enjoyment? There is one simple landscaping addition that could allow you to comfortably use your outdoor space through all seasons of the year while also offering valuable aesthetic benefits. Outdoor fireplaces or fire pits are an excellent choice for a wide range of landscape designs and sizes.
A 2018 survey done by the American Society of Landscape Architects found outdoor fireplaces and fire pits were the most popular outdoor design element cited by landscape architects. Why are outdoor fireplaces so popular? This small installation offers the following big advantages:
#1 Year-Round Entertaining. An outdoor fireplace adds the warmth you need to keep your family and guests comfortable on the cooler days of the year. You can use your outdoor fireplace as an extension of your home to hosts large parties or provide a natural gathering place in a more intimate setting.
#2 Cooking. While they may not be as effective as a stove or outdoor grill, you can still rely on a well-constructed fireplace or fire pit to cook certain foods. Some owners prefer to add a fire grate to cook more distinguished dishes while others are satisfied with good old-fashioned s'mores roasted over the open flames.
#3 Ambiance and Aesthetic Appeal. Outdoor fireplaces are more than just a functional asset. They can also be a way to enhance the appearance of your overall landscape. Just like other architectural features used in landscaping, outdoor fireplaces can be customized to meet your needs and style. Whether it is a freestanding gas fire pit or natural stone fireplace, you'll find a wide range of options in finishes, fuel types, sizes, styles and materials.
Can we help you design and install your outdoor fireplace? As the cooler temperatures set in, it is the perfect time to invest in this valued hardscape addition. Call Mobile Joe's Landscaping today to learn more about outdoor fireplaces.