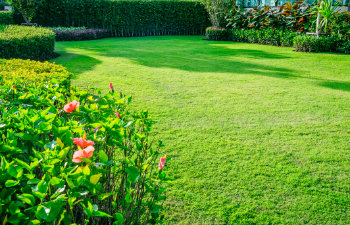 As warmer temperatures approach, your lawn is waking up from its winter slumber. Now is the time to get a jumpstart on your spring lawn care so that it can reach its full potential when the season peaks. While you can count on spring to offer abundant moisture and a mild climate for your landscape, there are still other things you can do to help it thrive.
At Mobile Joe's Landscaping, we suggest the following checklist of tasks in early spring to give your lawn the best chance of success:
Tidy Up
Rake dead leaves, collect sticks and clear out debris so that your lawn looks better but is also able to absorb more moisture, nutrients and sunlight in the coming weeks.
Mow
For that first warm weather mow set your mowing height slightly lower than normal. This will give your lawn a boost to green up earlier than your neighbor's since it will be able to take in a deeper layer of sunshine.
Apply Pre-emergent
This herbicide prevents seed germination and the growth of crabgrass in your turf. Try to wait until the air temperature reaches 65–70°F for four consecutive days before you apply pre-emergent.
Fertilize
As a final step to revive your lawn after winter, we suggest feeding it. Fertilizing your grass gives it the proper nutrients to begin the renewal process. A lawn care expert can advise you on which type of fertilizer is best for your specific grass.
Not sure you want to tackle your spring lawn prep on your own? Let us help. Call Mobile Joes Landscaping today. A few simple steps to get ahead of your lawn in early spring can make a drastic difference in how it looks and grows all season long.