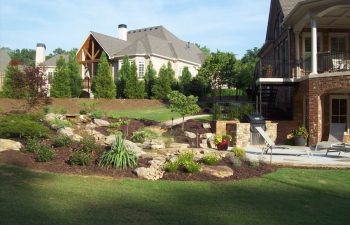 With the final freeze having passed us by, it seems as if it's time to tip our hats to Old Man Winter once again. Aside from the onset of pollen, most Atlanta residents are ready to welcome spring with open arms, and this means freshening up their dreary wintry landscapes. As a premier Atlanta-based company for over 20 years, Mobile Joe's Landscaping provides experienced lawn care and maintenance for residential and commercial properties across the metropolitan area. As landscape design experts, our contractors also offer a wide range of services to set your landscape up for spring!
To uncover the natural beauty of a landscape, our spring lawn care services include cutting and removing leftover dead leaves and wood, aerating and seeding, fertilizing shrubs and removing dead tree limbs. This involves pruning to help sustain the health of trees and bushes, and to revitalize their appearance for the new season. We provide edging to define beds and create a clean, manicured look. In turn, we remove old mulch and replenish it with fresh mulch to encourage plant growth and prevent weeds from invading the beds. Finally, our lawn care and maintenance includes fertilizing to promote healthy, strong grass.
In celebration of spring, some find that it's time to transform a section of their property or yard into a retreat or play area for children. At Mobile Joe's Landscaping, our professionals offer a complete menu of services from custom hardscapes and walkways to arbors, koi ponds, water fountains, retaining walls, custom fence designs, outdoor fireplaces and supreme lighting to accentuate a home and landscape.
Call Mobile Joe's Landscaping Today!
Without question, spring is a great time to spruce up your space for months of memories with a sharp-looking landscape and special features provided by Mobile Joe's Landscaping. As always, we offer a complimentary consultation to discuss your unique needs and preferences. Call today!