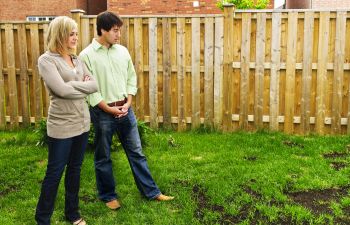 It's not always easy to keep a perfectly even lawn. Your turf can become bumpy or cratered from a wide range of factors, some of which are out of your control. When the ruts and holes in your lawn are minor, however, there are some simple action steps you can take to restore it. We know that low spots and lumps are not only unsightly, but they can also be a safety hazard in your yard.
In many cases, you can smooth out your lawn by recognizing and addressing the cause of your uneven ground, which can include the following:
Mowing in the same pattern repeatedly
Heavy equipment or toys (especially on wet soil)
Critters, pets or kids
Removal of a tree stump
Buried debris that has decomposed
Repairing Lawn Ruts
A professional lawn care expert can fix your low spots and holes within your yard with ease. However, if you'd rather tackle the job yourself, there are some things you should know. First, try to repair ruts and holes when grass growth is at its strongest. When you fill in these small craters or depressions of grass, it is best to use a blend of planting soil with sand and/or compost. Depending on the depth of the hole and whether you can still see grass within the rut, you may need to follow up with seeding, loosening the soil and gently lifting the remaining grass at the center. You'll want to "baby" the low spot until it takes growth. This includes avoiding the area with your mower and watering it more often.
If you have a large hole in your lawn or you're not sure how to properly smooth it out, please call Mobile Joe's Landscaping in Alpharetta. We understand what it takes to create and keep a healthy, attractive and even lawn.