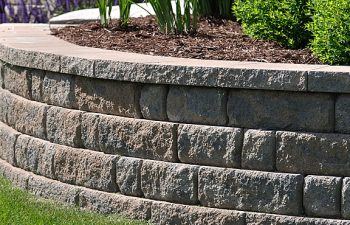 Retaining walls are commonly recommended for properties that have a steep slope or incline. This valued hardscaping service is designed to save your landscape from the natural yet unwanted effects of rainwater over time. This is highly important if you want to "retain" the appearance and health of your business landscape. After all, your landscape is often your client's first impression! Not installing a retaining wall when it is needed can lead to serious repercussions to your outdoor space and your company's reputation.
While retaining walls are primarily functional, they can provide an overall aesthetic boost to your commercial property if designed and installed in the right way. In fact, if you are a business owner, here are three main benefits of having a retaining wall:
#1 Increased Seating and Dimensional Beauty
Did you know that a retaining wall can be designed in a way that serves your landscape and your guests? Ask about how your retaining wall can be strategically created so that the edge acts as a bench for your employees or customers who want to enjoy the outdoors. The area above your wall can also be used to create a special garden or flower bed. This gives visual appeal to your overall landscape.
#2 Prevents Against Flooding
Storms and flooding can occur anywhere. However, if your property is sloped, you are at a high risk for floodwater damage. To save your landscape, your building and your wallet, we recommend a commercial retaining wall as a preventative measure.
#3 Protects Against Erosion
Retaining walls are also meant to protect against land erosion, or the shifting of soil and dirt that happens over time on a sloped property. This can ruin your mulch, plants, flowers, trees and walkways that you've invested in.
Concerned about your sloped commercial property? Ask our experts about your options for retaining walls near Cumming. We offer eye-catching designs that not only protect your landscape but enhance it as well!  Call Mobile Joe's Landscaping today!