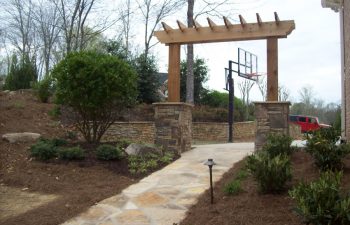 Do you enjoy spending time in your backyard? Are you looking for ways to make your backyard more appealing? Consider installing a custom arbor. An arbor is a simple landscaping design feature that can add remarkable value, beauty and functionality to your outdoor space.
What Can a Backyard Arbor Do for You?
Highlight a Garden Entry
It is common to install an arbor to define a specific feature in your backyard. A garden is a perfect example. A latticework or arched arbor can make an eye-catching entrance to your flower or vegetable garden that you work so hard to maintain.
Create a Passageway
A larger arbor can be used as a tunnel-like passageway that transitions visitors into a patio, pool area or other distinct destination in your backyard. This type of arbor can create visual height and dimension to your overall landscape and make your backyard look bigger than it really is.
Provide Shade, Shelter and Solitude
Many homeowners avoid their backyard during hot temperatures and rain. An arbor, however, can provide the perfect shelter from rain and sun without jeopardizing the aesthetics of your landscape or suffering the expense of a screened-in porch. A set of chairs or a bench under an ivy-covered arbor can create the perfect place of solitude through every season.
Customize Your Arbor
At Mobile Joe's Landscaping, we proudly offer custom arbors. We understand the importance of choosing an arbor that meets your needs and goals in size, shape, material and budget. Our landscaping team can discuss your unique vision for your arbor and recommend materials and design options that will compliment your landscape as well as your home's exterior. Call today to learn more about custom arbors from Mobile Joe's.