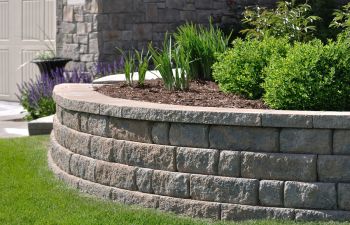 When it comes to poor drainage in your yard, it is important to recognize and address the problem as soon as possible. Ignoring (or being oblivious) to a drainage issue can wreak havoc on your landscape, hardscapes and even your home's foundation. To avoid cracked patios, root rotted plants and swarming mosquitoes in your outdoor space, you'll need to learn the warning signs of poor drainage.
Soggy Spots or Standing Water
The primary indicator for a drainage problem is pools of standing water on your property or that area of grass that is soggy or spongy to the touch. If it has been days since the last rainfall and these wet spots are still lingering, you need to investigate your drainage. Be sure to check the ground underneath your gutters or downspouts. If you have pools of water here, you may also have damage to your home's foundation.
Moving Top Soil
When the amount of water on the ground exceeds what your soil can absorb, the excess water will push mulch, top soil, silt or bark out of place. You may notice that the soil or mulch has shifted and accumulated in a lower area of your yard. This is a threat to your landscape design and a symptom of poor drainage.
Erosion
It is not uncommon for poor drainage to cause the soil to deteriorate or drop away. This is known as soil erosion. You may even notice small pits or mini "sink holes" in your yard due to this process. Regardless of the extent, erosion can jeopardize your foundation, garden beds or decorative pond that you may have throughout your landscape.
Ponds Developing Under Downspouts and Gutters
This is a particularly bad sign. If water is collecting and staying right under your downspout or gutter, it may be seeping under your house and undermining the foundation. It will wear away dirt that is protecting the concrete of your basement and generally expose more wall than is good for the house. The problem here may be clogged gutters or undersized downspouts, but water should be directed away from the house anyway.
Think you may have a drainage problem in your yard? Don't fret. The experts at Mobile Joe's Landscaping can help. Our Alpharetta team offers a wide variety of drainage solutions to meet your needs, budget and style. Ask us about French Drains, dry creek beds, retaining walls and more!