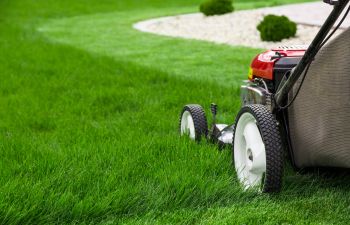 Whether you live on a small lot or your property stretches across several acres, there are many steps involved in maintaining a healthy, green lawn. For those that enjoy the process and have the time, this might not be a big deal. As for the rest of us, lawn care can prove burdensome and stressful. The experts at Mobile Joe's Landscaping know this, and that's why we offer lawn care and maintenance services for properties throughout the Atlanta metro area. After all, anyone can benefit from professional lawn care.
A healthy lawn is about more than fancy cutting and edging. It requires an understanding of grass varieties and regional climates. These dictate when to aerate and seed, as well as how to treat insect and disease problems. Similarly, trees and shrubs provide clues into the overall health of a landscape. Thus, if a tree looks good one day and appears to be dying the next, this could signal an infestation that needs to be treated.
While professional lawn care services at Mobile Joe's Landscaping includes weekly mowing using "reel" mowers (the same type used to manicure the fairways along golf courses), residents have the option of additional services that are tailored to their landscape. These include consistent pruning and trimming of bushes and shrubs, along with weeding and removing debris. In addition, we are able to balance the soil in your beds, fertilize and periodically replenish pine straw and mulch. What's more, our expertise extends to drainage concerns, and we are able to help homeowners with a permanent solution.
Save Time And Money With Professional Lawn Care Services
For our professionals, it's a privilege to help residents around Atlanta save time by taking on the landscaping needs of their property. Like many home services of its kind, lawn care pays for itself over time, as homeowners do not have to purchase new equipment or worry about repairs.
Are you tired of mowing your grass? Are you hoping to spend more time with your family this summer? Call Mobile Joe's Landscaping today!