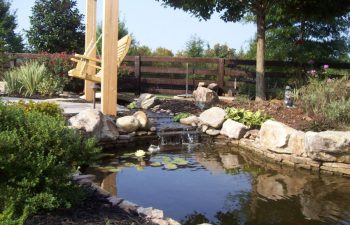 Visually captivating and serene, ponds offers numerous benefits to neighborhoods and private residences. With features such as colorful fish, plants and foliage, statues, rock borders, waterfalls and specialized lighting, ponds bring elegance to exterior living.
Total Pond highlights some of the benefits of having a pond, which extend beyond beauty and aesthetics. For instance, consider the calming effects of the sounds of water, from the white noise of the ocean to a steady rain. Not only can the sounds of water filtering in and out of a pond mask less-appealing noises like traffic or loud neighbors, water sets the mood for the space. For more urban areas, the sounds of running water can be amplified by adding a planted backdrop.
A second benefit of ponds is that they promote a feeling of enhanced wellness. Psychology Today suggests that this feeling is universal, which explains why many individuals travel to the beach for vacation or a place of respite. Moreover, research suggests that contact with nature triggers crucial parts of the human brain that are linked to positivity and happiness.
Practically speaking, ponds can save homeowners money by acting as an outdoor air conditioning system. For example, when water evaporates off of the surface of a pond, it cools the surrounding areas. Many families find that they spend more time outdoors and less time inside with the air conditioning on full blast. In turn, a well- constructed pond can become a natural reservoir and provide water storage, as well as a place for rain runoff. Ponds provide much needed moisture to nearby plants, helping sustain them. Because they take up ample space, there is less need for mowing, meaning fewer pesticides and fertilizer are necessary.
While they provide a peaceful sanctuary in which to gather and have conversation, ponds play a role in supporting indigenous wildlife and sustenance for the landscape as a whole.
Mobile Joe's Landscaping is a premier pond construction company serving Atlanta and surrounding communities, including Dunwoody and Duluth. For a free consultation to discuss your pond installation, call today!