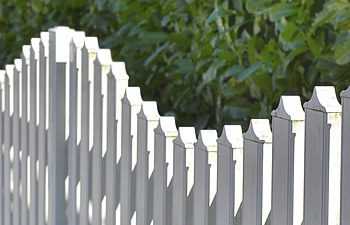 Fences are a great solution for those who want more privacy on their property or who need to contain pets or kids. Unfortunately, far too many homeowners complete their fence installation without fully thinking their project through. While fences are primarily installed for their functional purposes, you should never overlook the aesthetic impact that this structure can have on your overall landscape design. In fact, fences are one of the most challenging landscape elements and should be selected carefully, as there are many different materials and layouts that can be used.
First and foremost, you need to determine exactly what you are expecting out of your fence. In other words, what level of privacy do you desire. Some fences can create complete privacy while others are only able to provide "suggested" privacy. You may even have different areas of your yard that you want different levels of privacy. Determining your desired privacy levels can help narrow down your fence choices for design and materials.
At Mobile Joes Landscaping, we can help your fence look like a natural part of your landscape while still offering functional benefits. In doing so, we often suggest blending natural plants and trees with hardscape fencing materials. Shrubs, trees and hedges are a great way to block noise and street lights from the outside while also fitting in seamlessly with the rest of your landscape.
In areas that you need a fencing structure, the height and materials matter most. It is important to match the fence height to the level of privacy – don't go bigger if you don't have to. Also, don't use a fence as a wall if plants or shrubs will do the job. Of course, if you have kids or pets that you need to contain, a physical fence structure is needed. However, you've got options in how that fence will look depending on whether you use stone, metal, iron or brick. Lastly, don't install a fence if you are just wanting to muffle or block sound; evergreens or deciduous plants will absorb noises much better.
Do you need help designing and installing a functional and aesthetically-appealing fence in your Georgia home? Call Mobile Joe's Landscaping for professional help!