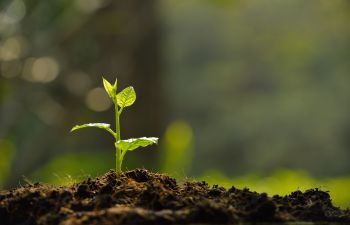 Weeds can be a problem in Georgia lawns all year long. However, there are certain times of the year that you can get a jumpstart on controlling these pesky and unsightly growths throughout your turf. In fact, if you live in North Georgia, applying herbicides during the month of March or before the soil temperature reaches 55 degrees, is ideal for helping to prevent annual weeds such as crabgrass and goosegrass.
Stopping the Life Cycle of a Weed
Weeds are just like other plants in your yard. They grow through the process of photosynthesis, which means they rely on absorbed sunlight to make internal food reserves to be used in less ideal environmental conditions. There are various types of weeds, but many perennial varieties grow their root systems during cool weather. Therefore, by applying man-made products, we can interrupt the growth cycle of a weed and eventually kill the plant.
Understanding Weed Control Products
There are countless weed control products on the market. It can be difficult for the average homeowner to understand which one to use. In most cases, weed problems should be addressed with a product that can be absorbed in any stage of the plant's growth. You'll notice that some weed killer products are packaged as a "one-two punch" that includes both a pre and post-emergent herbicide. This simply means that the weed's growth cycle can be impeded before and after it has grown enough to be identified as a weed.
Pre-emergent herbicides treat the entire yard. They are often products that are used alongside a water hose as you are irrigating your grass. A pre-emergent is designed to stop new weeds from growing. On the other hand, post-emergent herbicides infiltrate the germination process of weeds that are already fully grown. These types of products are commonly found in liquid form, and they typically require multiple applications to be effective. Finally, if you have concerns about the safety of using chemical herbicides on your lawn, there are also natural recipes and techniques that can be effective for controlling weeds.
Find a Weed Control Expert to Help
A healthy lawn requires strategic maintenance. If you are not confident in your ability to apply weed control or choose the right products, please call on our experts for help. At Mobile Joe's Landscaping, we offer a variety of lawn services, including year-round and seasonal weed control.