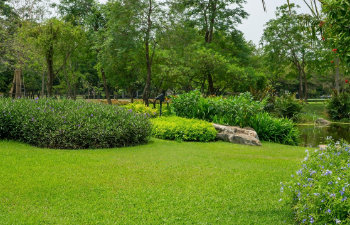 If you are planning to install new sod this spring, you may have your eyes solely fixed on the prize of beautiful patches of green turf. However, don't dismiss the existing soil that you'll be laying your sod on top of. In fact, the condition of your current soil can make or break the success of your sod.
At Mobile Joe's Landscaping, we help clients recognize the importance of improving their existing soil before sod installation. Your soil should promote a deep root system for your new turf. While soil preparation can be done in many different ways, one of the easiest and most time-tested ways is amending the soil with sand and compost. You can consider this step as insurance for your sod investment.
Why can't you just use your soil as is? If you have clay soil, it can be very compact, which leaves no room for sod roots to grow and attach to the nutrients they need. Topsoil can also be applied to your existing dirt before new sod, but this can be more costly than working in sand and compost. Sand and compost can foster a deeper root system for your sod as well as expedite the absorption rate, which prevents disease and drought.
When hiring Mobile Joe's Landscaping to prep your soil for new sod, you can trust that we will also correct any drainage concerns that could sabotage your future turf. Our goal is to give customers a streamlined and successful process when it comes to laying new sod.