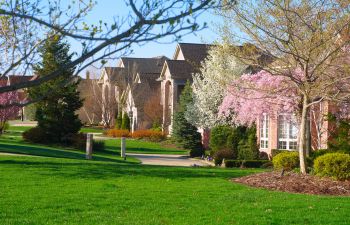 These unprecedented times over the past several weeks has forced countless Americans to clock in more hours at home. Since this has coincided with the entrance of warmer weather in Georgia, many families are also spending more time outside in their own yards than ever before. How is your lawn holding up? If you have kids and pets, you may now be keenly aware of how durable or weak your lawn is under the extra foot traffic.
If there are areas of your lawn that are not holding up well and showing signs of premature damage, you can take action now. It is important that your landscape not only look beautiful, but that it is also equipped to handle the ways in which your family wants to use it.
Plan Ahead and Consider Your Options
We are at the beginning of spring, so now is the time to make some changes to your turf if you anticipate a turf issue. Whether you are seeing your pets and family members take the same shortcut across your lawn or you are planning to install a swing set for your kids, it may be best to change out your turf or even consider a new ground cover to accommodate high traffic areas.
Best Grass Types for High-Traffic Areas
When it comes to warm season grasses, there are types that withstand foot traffic better than others. In general, the two most traffic-tolerant turf varieties are Zoysia and Bermuda, which can be planted from May to September.
Alternative Solutions
If you have an area of your landscape that gets a lot of traffic but struggles to grow grass due to the elevation, lack of sunlight or drainage issue, then you may need to consider an alternative solution. Mulch, gravel and pavers are also excellent ways to cover high traffic areas. If you are landscaping around a swing set or children's play space, it may be best to consider mulch or even artificial turf for better cushioning and safety.
Preventing Lawn Decline from High Traffic
Though Zoysia and Bermuda are more tolerant than other varieties, they are not invincible to damage and decline from excessive foot traffic. Therefore, it is important to do your part to protect your grass through these high-traffic months. One of the most common reasons for lawn decline in high traffic areas is soil compaction. To prevent soil compaction, consider periodic lawn aeration. It is also helpful to get the advice and recommendation from a lawn care expert.
At Mobile Joes Landscaping, we are happy to meet your lawn care needs. Our menu of services and large inventory of resources allows us to address all types of turf issues, including those that involve protecting and preparing high-traffic areas. Your outdoor space should be one you can enjoy to the fullest!