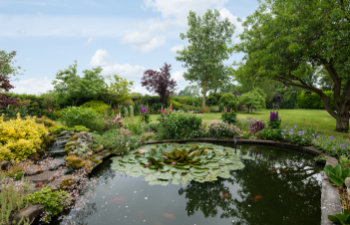 Not everyone is fortunate enough to live on a lake or afford a pool in their backyard. But that doesn't mean you can't enjoy the valued benefits of water in your outdoor space. In fact, there are some simple and cost-effective solutions for landscape water features. Even just a small wall fountain or container pond can provide the relaxing and healing effects of water and transform your backyard into a natural sanctuary.
There is no debate that the appearance and sound of moving water can have restorative and rejuvenating powers. A simple water feature could allow you to go to your own backyard to unwind at the end of a stressful day or even begin your day with a more peaceful state of mind.
Ideas for Water Features
At Mobile Joe's Landscaping, we can design, install and maintain your landscaping water feature. Most importantly, we can cater your water feature to meet your specific desires, space and budget. Here are just some of the ways that we can bring a relaxing oasis to your backyard:
Wall Fountain
Container Pond
Koi Pond
Container Pond
Stone Waterfall
These features can come in all different sizes and be a focal point or compliment to your existing landscape. The sky is the limit when it comes to designing water features. You can trust that our team is equipped with the knowledge and expertise it takes to not only design your water feature, but install the necessary pumps, filters, drainage and underground support that your miniature oasis may need to function properly.
If you are interested in learning more about custom landscape water features in the greater Atlanta area, call Mobile Joe's Landscaping. We welcome the opportunity to bring the relaxing and healing effects of water to your personal outdoor space.