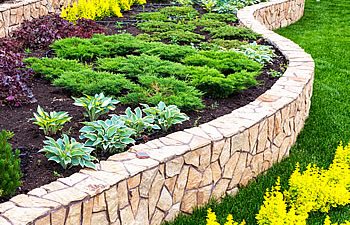 Whether it is one foot or twelve feet, a retaining wall is typically used to solve major landscaping problems such as soil erosion and flooding. However, a retaining wall that is well-constructed and installed by a landscaping professional can add both beauty and function. The question is: do you need a retaining wall on your personal property?
Here are some top signs you need to consider this valued landscaping element:
#1 Your Property is on a Hill or Steep Slope
A retaining can create a level space to make your property more usable, whether it is a patio, more parking, a sport court or just an even grass area.
#2 You Need to Prevent Erosion and Flooding
If your landscape is displaying signs of erosion, such as migrating soil/mulch, exposed tree roots and loss of dirt around your home foundation, a retaining wall can prevent further damage.
#3 You Need to Control and Divert Rainwater
One of the ways that a retaining wall can prevent erosion is by diverting or channeling falling rainwater into a more optimal place on your property that doesn't cause damage to your home or landscape.
#4 You Want to Add Definition and Esthetics to an Existing Hill
Retaining walls come in various sizes and materials. A retaining wall can define a slope on your property and provide multiple levels or terraces for a more aesthetically-pleasing yard.
#5 You Need Extra Seating
Believe it or not, a well-engineered retaining wall can help create unique spaces on your commercial or residential landscape while adding places for you and your guests to sit at the same time.
At Mobile Joe's Landscaping, we realize that retaining walls can add both function and beauty. We also know that each landscape is unique in terms of structure, size and style. Therefore, we proudly offer a wide range of top quality retaining walls to choose from. Call today to schedule your retaining wall installation today!