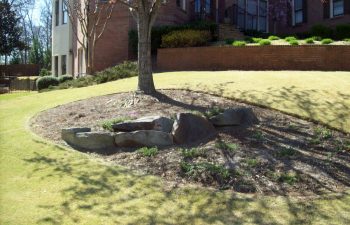 Now that temperatures are dropping, your lawn care demands will also decrease. But that doesn't mean you are off the hook completely when it comes to caring for your landscape during the winter. One of the biggest mistakes homeowners make is not giving their dormant winter grass a chance to breathe. When turf gets compacted or smothered during the winter, it can lead to a diseased or even dead lawn when spring arrives.
Ways to Let Your Lawn Breathe
During the winter, there are many things that can suffocate your grass. Therefore, it is important to take care of your winter lawn from multiple angles. Allowing your grass the chance to be dormant but also breathe and stay healthy can include the following tasks before or during the cold temperature months of the year:
Aerate Your Lawn – Often performed in the late fall, aerating your lawn can be the most effective way to ensure your soil is released from compaction and your grass still gets the air, water and nutrients it needs during the winter.
Remove Leaves, Debris and Toys – Nothing can suffocate a winter lawn quicker than leaving a layer of thick leaves or lawn toys/ornaments to remain on your grass through the winter. You'll also be making your lawn susceptible to lawn diseases underneath the debris.
Winterize Irrigation System – Your winter grass doesn't need the water that it did in the summer or fall. Take steps to winterize your irrigation so that you don't drown (or freeze) your grass in cool season months.
Lower Height of Mower Blade – Tall grass can smother itself, cause disease and be more susceptible to freeze damage. Therefore, slightly lower your mowing height if and when you need to mow this winter.
Minimize Traffic – Your grass won't be as resilient to foot traffic during the winter. To avoid damaging your frosted or frozen grass, try to minimize or avoid heavy traffic across your lawn while it is cold outside.
Ask the Experts About Winter Lawn Care
Have a specific question about what your turf needs this winter? Call Mobile Joe's Landscaping. We offer year-round lawn care maintenance to landscapes of all types and sizes. After evaluating grass, we can tell you exactly what your lawn needs to reap a lush and healthy turf for spring.