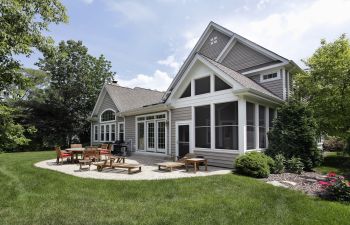 Few things can steal your outdoor enjoyment in Georgia like mosquitoes. These biting insects are not only pesky, but they can carry harmful diseases. If your yard is plagued with swarming mosquitoes in the summer months but you want to avoid the harsh chemicals and heavy toxins of professional mosquito treatments, you'll love these suggestions of natural remedies.
The following are some of the most effective "organic" methods for deterring mosquitoes from your landscape:
Essential Oils: Did you know that a mixture of lemon oil and eucalyptus oil creates a natural mosquito repellant? The same is true for essential oils like lavender, spearmint, orange and cedarwood. While essential oils only provide a few hours of repellant, that is enough to host a party or play a family yard game without these intruding insects.
Control Your Own Scent: Speaking of scents, there are also aromas that attract mosquitoes. If you want to save your skin from frequent mosquito bites, limit your perfumes, colognes and other strong scents that may be luring unwanted insects.
Fight with Fire: While we never endorse playing with fire, it is true that insects don't like smoke and flames. To safely use fire as a solution for mosquito control at your next gathering, consider lighting up your outdoor bonfire or Tiki torches.
Eliminate Mosquito Breeding Grounds: Perhaps the most important step to limit mosquitoes in your yard is to nix their breeding grounds. This means getting rid of standing water, such as pools, birdbaths or puddles from malfunctioning gutters or an uneven yard.
For more mosquito control tips that are safe for your family, call the experts of Mobile Joe's Landscaping. We can help you deter these pesky insects so that you can enjoy your outdoor space to the fullest!