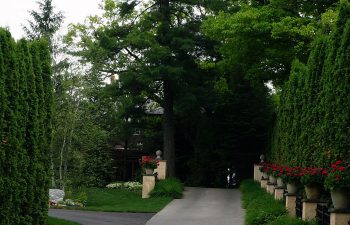 Providing social, economical and environmental benefits, trees extend beyond beauty, as noted by Trees Are Good. This is great news for homeowners, as trees are a worthwhile investment into the value of a property. What's more, when placed along the border of a backyard, trees offer serenity and much-needed privacy after a long day. At Mobile Joe's Landscaping, our team specializes in the delivery, planting and installation of privacy trees, creating a natural and safe barrier for your family.
There's no doubt that spending time outdoors refreshes the mind and body, as new-age culture and its modern way of life brings stress and tension. With anxiety and depression at an all time high, creating a quiet retreat at home is a healthy remedy. When it comes to creating privacy, it's important to understand that it doesn't always require installing a fence or man-made structure. Rather, trees can be planted intentionally to allow homeowners the ability to enjoy the peacefulness of their backyard without worrying about surrounding neighbors and those passing by.
Moreover, it doesn't require a lot of time to built a privacy tree line. Fast-growing trees such as Cypress and varieties of Cedar are excellent options to establish year-round coverage around a property. What's more, a wall of trees serves as a windbreak, while providing protection from heavy rainfall. Finally, with trees that line the backyard, homeowners can enjoy cooler temperatures, as foliage counteracts the heat of a hot summer.
Given the many benefits of privacy trees, it's clear that they serve to enhance the quality of life for homeowners and their families.
Your Premier Source For Privacy Trees In The Atlanta Area
Proudly serving Alpharetta, Milton, Dunwoody, Brookhaven, Roswell, Crabapple and surrounding areas, Mobile Joe's Landscaping is a premier source for privacy trees in the Atlanta metro area. We understand the importance of privacy, especially for our customers that live in neighborhoods. If you are contemplating a privacy tree line, or if you have questions regarding the right privacy trees for your home, call Mobile Joe's Landscaping today!