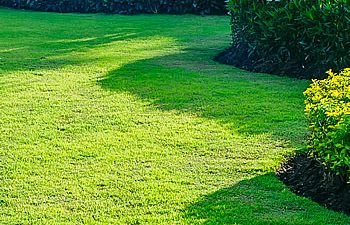 Spring is just days away. What are you doing to foster healthy, vibrant growth from your landscape this year? While it is important to apply fertilizer, take care of drainage issues and set up your irrigation system, many lawns can also benefit from core aeration. Depending on the type of grass you have (warm or cool season), lawn aeration can be performed in the fall or spring. In general, lawns need aeration once per year for optimal growth!
What is Core Aeration?
After the winter months, it is common for your soil to become hardened or compacted. There is little growth during this time of year, and your turf is less used and nourished. However, spring grass cannot grow in this type of thatched soil. Your lawn simply can't breathe this way. Core aeration is the solution. During aeration, a machine is used to pull core soil plugs from your lawn. When performed during the spring, lawn aeration offers the following benefits:
Reduces thatch buildup.
Helps prevent insects and disease.
Allows water, air and nutrients to invade the soil.
Fosters healthy root growth.
Enhances soil microbial activity.
The same benefits that apply to fall aeration can apply to spring aeration. However, it is important to perform this task when the ground is not frozen or too wet to maximize the effectiveness. Spring is an ideal time to aerate your lawn if you have grass that goes dormant during the winter and wakes up for vibrant growth during the hot weather months of spring and summer.
Does your lawn need aeration this spring? Let us help. Mobile Joe's Landscaping employs an experienced team of lawn care experts who can provide core aeration and other lawn care services for properties of all sizes. Get your free estimate today.