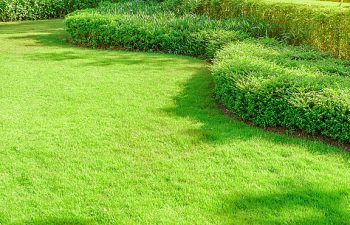 Whether it breeds out of curiosity, a passion to try new things or a tighter budget, many homeowners will choose to take matters into their own hands when it comes to landscaping. While some catch on fast and do the job well, others suffer the consequences of their rookie landscaping mistakes.
If you've decided to handle some (or all) of your landscaping design this year on your own, don't be guilty of the following errors:
#1 Too Boring!
If you're new to landscaping and nervous about making a mistake, you may err on the side of caution and play it safe with your landscaping. However, if you're making the effort and investment, try to do your research and implement some landscaping techniques that will add curb appeal to your home. Avoid the tendency to use boring and "too simple" designs. Instead, make the decision to "branch out" on your ideas.
#2 Too Crowded
For some, the opposite is true. If you get over-zealous when picking out your plants and trees, you may end up with an over-planted landscape, or one that looks too crowded. Not only will you spend more money than you need, but you'll find that your landscape overgrowth will be difficult to manage as the year goes on. Be okay with empty spaces in your landscape and always account for future plant growth.
#3 Unsightly or Impractical Layout
This is challenging to overcome if you do not have a professional degree in landscaping design. However, the layout of your landscape and how it complements your home is important. The location of your plants, size of your flower beds and type of sod you choose should not only be practical but also aesthetically pleasing in terms of accenting your home's style.
#4 Wrong Plant Placement
A very common mistake in rookie landscaping is planting the wrong types of plants for your yard. Just because you like the appearance of a plant or flower, doesn't mean that it will thrive in your space. Pay attention to the plant's needs in terms of sun exposure, soil quality and water amounts.
If you'd like to avoid landscaping errors altogether, consult our experts at Mobile Joe's Landscaping. We can offer the level of guidance you need when designing and managing your Georgia landscape this year!