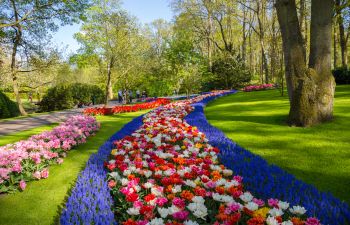 If you have plants and flowers outside of your home, you should know they need ample amounts of water to stay alive through a hot Georgia summer. While giving your plants enough water is certainly a primary goal for southern homeowners, there is always a concern with offering too much water. It is important that you know what your flowers and plants need in terms of shade, sun and water. Overwatering your landscape can be a costly mistake.
How to Know How Much to Water Your Plants
You'll need to get to know your plants in order to be comfortable with a proper watering schedule. First, feel the surface of the soil before you add water. If it's dry, then you will need to add water. If that still leaves you questioning your plant's water needs, however, you can also insert a spade into the soil and near the plant. Pull it back and examine the soil. If it feels moist within 6 to 12 inches deep, your plant is well-hydrated. If not, go ahead and reach for the garden hose or sprinkler. A lawn care expert can also explain the unique irrigation demands of your plant species as it pertains to how much sun it is getting in your yard.
Telltale Signs Your Plants Are Getting Too Much Water
Are you watering too often or holding the hose over your plants for too long? Learn the warning signs that you need to back off on your irrigation efforts. Here are some symptoms of an overwatered landscape:
Green soil, which is algae
New plant leaves are brown
No new plant growth
Rotted plant roots
Wilted plant leaves
Yellow lower plant leaves
Quick Tips for Proper Plant Watering
At Mobile Joe's Landscaping, we can help you resolve the consequences of overwatering. Going forward, however, try to keep these watering tips in mind (especially when afternoon thunderstorms are frequent).
Consider mulching to reduce runoff.
Only water when needed (not after a hard rain).
Water in the mornings.
Focus on the roots and not the leave when watering.
Need help with watering and maintaining your flowers and plants? Call Mobile Joe's Landscaping today to learn about our affordable lawn care plans.