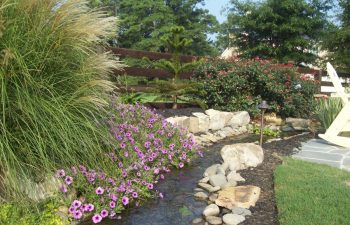 Do you want more for your backyard? Are you looking for an easy way to set your landscape apart from the rest of the neighborhood? Consider a water feature. Adding water to your backyard does far more than add visual appeal. In fact, water features can instantly change the ambiance of your outdoor space without the maintenance and hassle of having a pool or spa.
Types of Water Features
Depending on the size of your outdoor space as well as your personal goals, you may choose from a variety of water feature options. In general, there are four main types of water features, including ponds, waterfalls, fountains and streams. These can all be customized in color, size and material to accommodate your needs.
What Can a Water Feature Offer?
Whether you have a pond and waterfall around your outdoor patio or a small fountain in the center of your garden, you'll gain valued benefits by adding a water feature to your landscape. Water features can offer the following:
Calm and relaxation with sounds of trickling water
Depth and texture to your landscape appearance
More wildlife (birds, frogs, squirrels and butterflies)
Improved air quality
A sound machine to muffle loud neighbors or street noise
Design Your Own Water Feature
At Mobile Joe's Landscaping, we are proud to offer an expansive menu of water features. We are happy to help you design the water feature you envision as well as install it in the most strategic area of your space. For the most part, water features are very "hands off" additions with a long-term return on your investment. Call today to learn more.