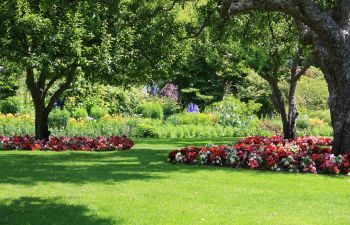 Whether you are reading on your front porch or having a small gathering in your backyard, it is understandable to want some privacy. Unfortunately, many Georgia homes are built close to each other and near busy streets. Do you have to invest in a brick wall or install a fence to get the solitude you desire? Not necessarily. Privacy trees are an excellent solution with numerous benefits towards your landscape and personal space.
There are a variety of trees and shrubs that can create privacy when planted along the border of your property. Privacy trees are naturally discreet and attractive while serving a valued purpose of creating a barrier between yourself and noisy neighbors, blinding streetlights or other threats to a peaceful backyard.
Privacy trees (or hedges) can be installed in your front, back or side yard. They are an excellent solution for homeowners that:
Have a pool or hot tub
Have kids that frequently play outside
Own a dog that is easily distracted by neighbors, cars or other dogs
Enjoy entertaining or having parties in their backyard
Value alone time
Desire privacy but don't like the sight of wood, metal or brick as a barricade
Beyond privacy, a border of thick foliage trees around your property can offer benefits to your landscape, such as the following:
Keeping your yard and lawn green throughout the seasons
Locking down the soil along a fence line
Making new landscaping look fully developed more quickly
Get Your Privacy Trees Today!
Would privacy trees help you enjoy and use your outdoor space more? At Mobile Joe's Landscaping, we can help you determine the best type of privacy trees for your particular needs and style. In general, cypress and cedar are the most preferred options because they grow fast and maintain thick foliage all year long. Call today to schedule your privacy trees consult with one of our landscaping experts.