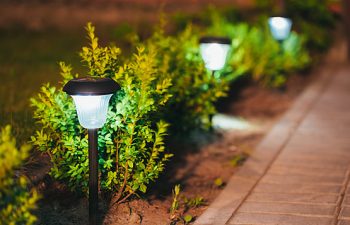 Do you stop using your outdoor space when the sun goes down? With endless options in outdoor lighting, there's no reason to let darkness intrude your landscape if you don't want to. In fact, the strategic and unique placement of outdoor lighting can add safety and ambiance for your family and guests at night as well as help you maximize your outdoor living space.

Here are some popular lighting design elements to consider for your home:

Pathway Lighting

Do you have paths around your pool, outdoor seating or a small garden? Energy-efficient path lights can be the perfect way to highlight a safe place to walk for your guests as well as showcase your most prized outdoor hardscape or landscape elements.

Up Lighting

If your home goes off the grid when the sun goes down, you can fix it. Consider "up lighting" to create a welcoming feeling on your property while adding security and curb appeal to your home. Up lighting can show off your favorite architectural features of your house or even highlight trees in your front yard.

Bistro Lighting for Outdoor Living Spaces

 

Do you have the right lighting to entertain guests in your backyard? You'll need your outdoor lights to help everyone see well without blinding bulbs or creating a harsh glare. Functionality is important when it comes to bistro lighting for outdoor living spaces.

Landscape Lighting

If you don't have landscape lighting, you are not taking full advantage of your landscape investment. Whether you have a beautiful flower bed or an eye-catching water feature, proper landscape lighting can ensure your enjoyment doesn't diminish with the natural sunlight each day.

Need help determining which outdoor lighting options are best for your space? Call Mobile Joe's Landscaping. We proudly offer Unique Brand Outdoor Lighting as one of the most preferred choices in the industry.