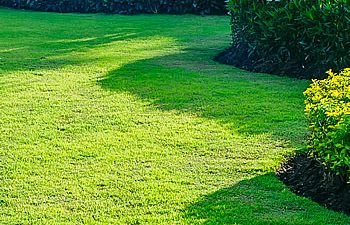 Everyone wants the best-looking lawn in the neighborhood. Grass that is lush, green and manicured can add curb appeal to your home as well as be a source of pride for the owner of the home. While fertilizers and irrigation are very important to the health and appearance of your grass, there are also some less obvious factors that could be sabotaging your lawn.
Avoid these five threats to your lawn this year:
#1 Heavy Foot Traffic or Equipment
You should always be able to walk on your lawn and let your kids enjoy the feel of soft grass under their feet. However, if you have an area of your lawn that gets frequent or heavy traffic, it could suffocate the grass and cause it to die. Consider redirecting guests to a walkway or other non-grassy area. The same is true for play sets, inflatable pools and other equipment that you may be tempted to leave on your grass for long periods of time. Anything that prevents water and sun from getting to the grass is a major threat to your lawn's overall health and appearance.
#2 Mowing with Dull Blades
It may not seem like a big deal, but if your mower blades aren't sharp, your grass blades can end up jagged and uneven after your mowing session. While this may be a minor imperfection, jagged grass blades makes your lawn more susceptible to disease and pests.
#3 Wet Mowing
If at all possible, wait for your grass to dry out before you start mowing. Mowing wet grass can not only clog or damage your mower, but it can also make it more difficult to get a clean and even cut.
#4 Mowing in the Same Direction
We are all creatures of habit. However, when it comes to mowing your lawn, it is best if you change it up a bit each time you mow. Consider mowing in a different direction each time to prevent unsightly grooves or patterns in your grass.
#5 Cutting Too Short
By cutting your grass as short as possible, you can extend the time you have to mow again, right? Maybe so, but it will often be at the cost of your lawn health. Cutting your grass too short can put added stress on the grass blades and invite disease. Optimal mowing height should be 2.5 to 3 inches for most grass types.
Hire a Lawn Professional
Not sure you can keep your lawn the way you want it? Consider hiring a professional. At Mobile Joe's Landscaping, we have experts in lawn maintenance, which means we understand and can prevent all the surprising issues that can threaten your lawn. For more information on our lawn care plans in Alpharetta, call today.